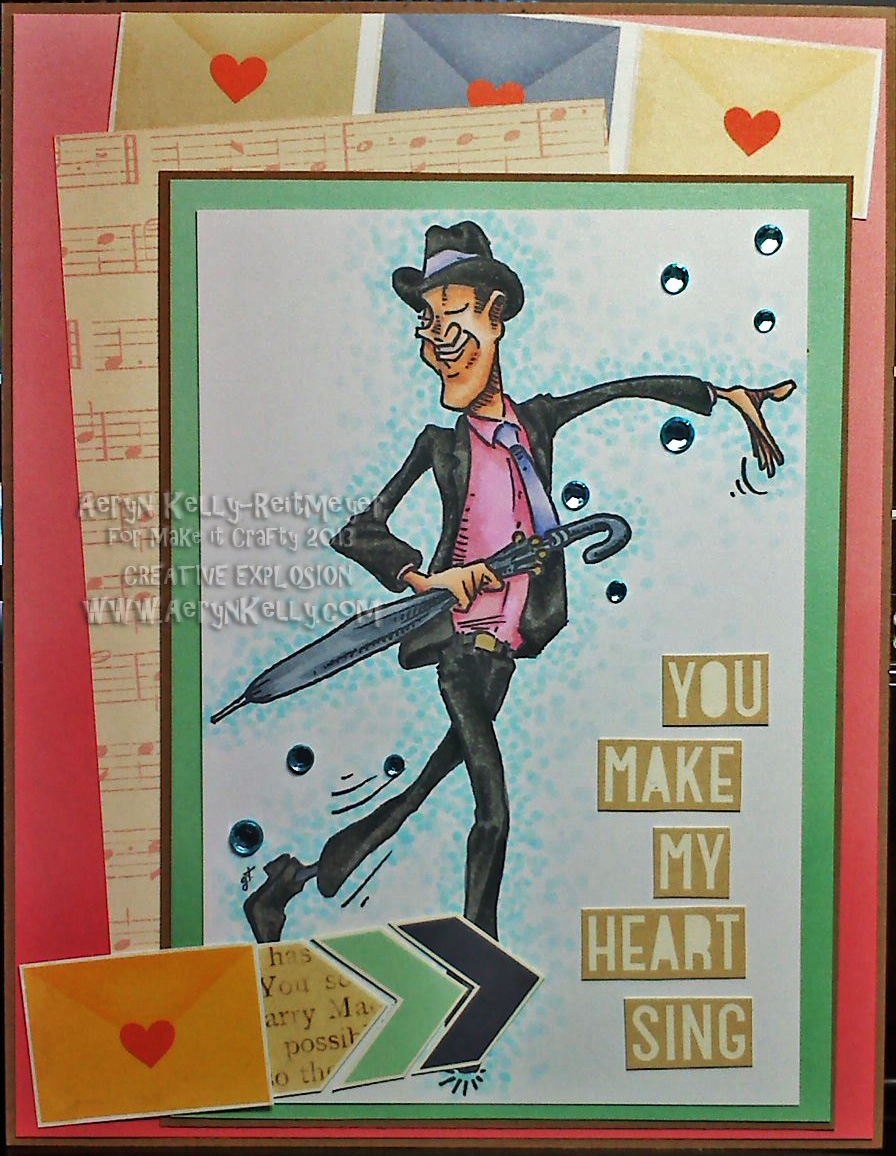 Hello and welcome everyone! For my first image I have used one of the new Tap Dancers. I loved how carefree he looked and figured the sentiment went really well with it.
Digital Stamps: Make it Crafty (
Tap Dancer
)
Cardstock: XPress-It, Recollections Kraft
Paper: American Crafts Dear Lizzy "Lucky Charm"
Jewels
Copic Colours
Skin: E4/11/21/00, YR00
Outfit: T9/7/5/3, C5/3, V20/22, RV66/55
Background: BG0000-01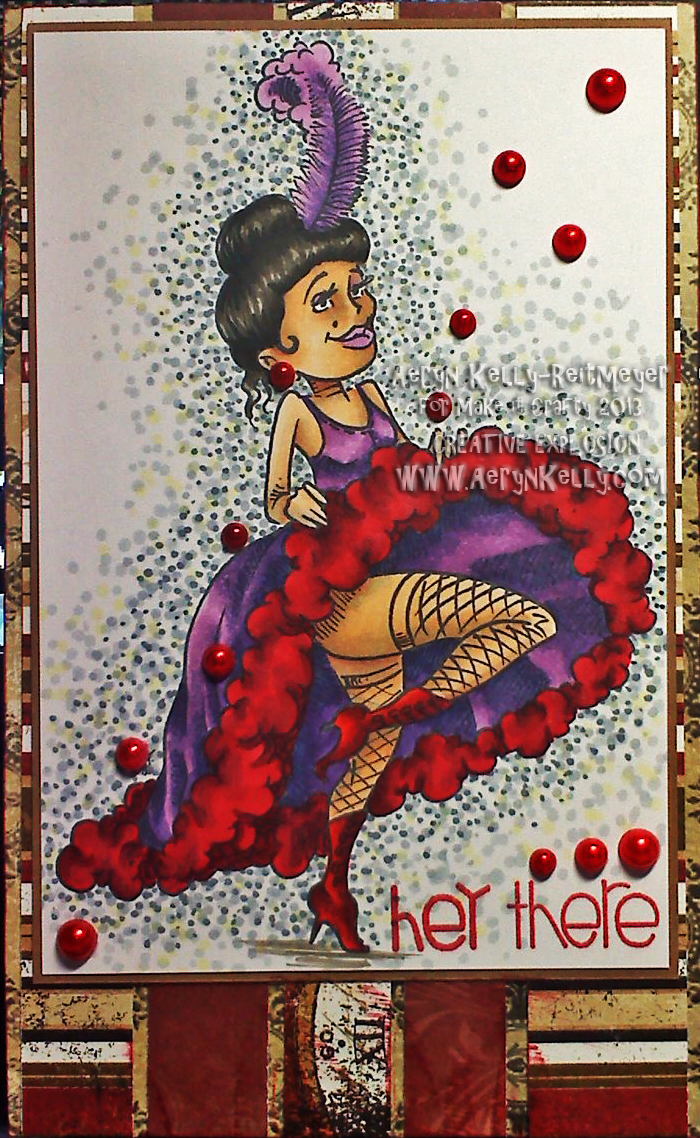 The second card I made for this release is using one of the Can Can Dancers. I was surprised at how much I liked this gal, as the big band, can-can thing is a little intimidating to me. But the moment I saw her I had colours for her immediately picked out in my mind. I'm regretting adding the yellow dots to her background though. I'd much prefer if I'd chosen a soft red, or avoided a colour all together. Ah well, colour and learn, yeah? I took the opportunity while making this card to use a sketch from the first lesson of Shimelle's Pretty Paper Party that I'm participating in on the message board. I think most of my creations for this class will be cards.
Stamps: Make it Crafty (
Can Can Dancer
- rubber), Paper Smooches (sentiment)
Cardstock: XPress-It, Recollections Kraft
Paper: Bo Bunny "Timepiece"
Pearls
Copic Colours
Skin: BV20, E04/11/21/51
Hair: W10/7/5/3
Outfit: R05/46/56/59, BV08, V12/15/16
Background: C2/3/5, Y00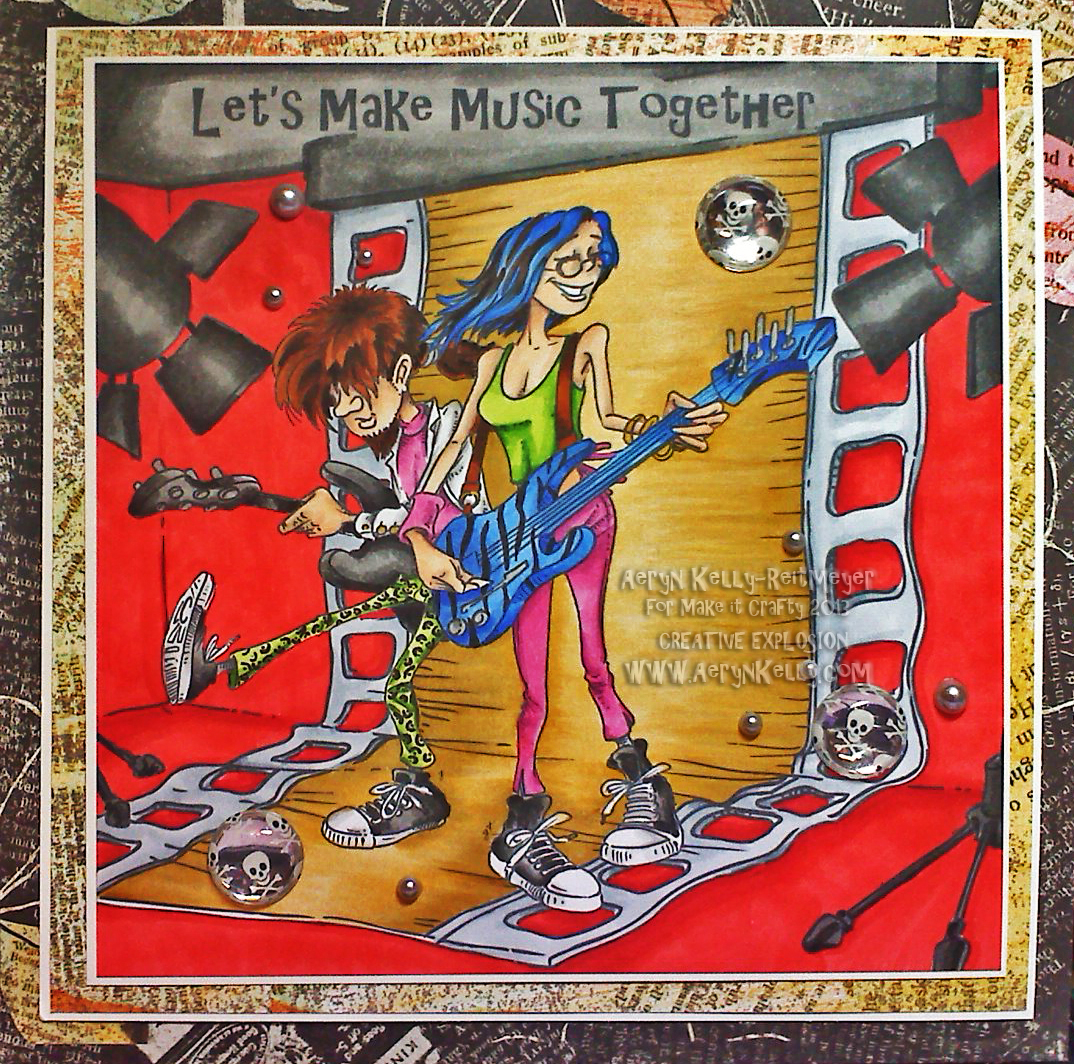 Lastly I have the image that I made first, but coloured last. Sometimes the larger scenes just get me stumped a bit. I got them before I saw the backgrounds for this amazing release so I combined these rockers with an older background from the movie release. I figured these rockin' figures are filming their music video. I used gold on the background fabric because I saw an AFI concert, the tour for Crash Love, and their backdrop was gold and silver. I thought this fit nicely.
Digital Stamps: Make it Crafty (
Rocker Dude
,
Rocker Chick
,
Studio Set
)
Cardstock: XPress-It, Bazzil Simply Smooth
Paper: Basic Grey "Out of Print"
Pearls and jewels
Copic Colours
Skin: BV20, E04/11/21/51
Hair:E29/39/49/79, B29
Outfit:YG67/25/01, B29/26/24, RV66/55, T3, N1
Background: Y28/26/21, R29/27/24, T9/7/5/3, C4/2