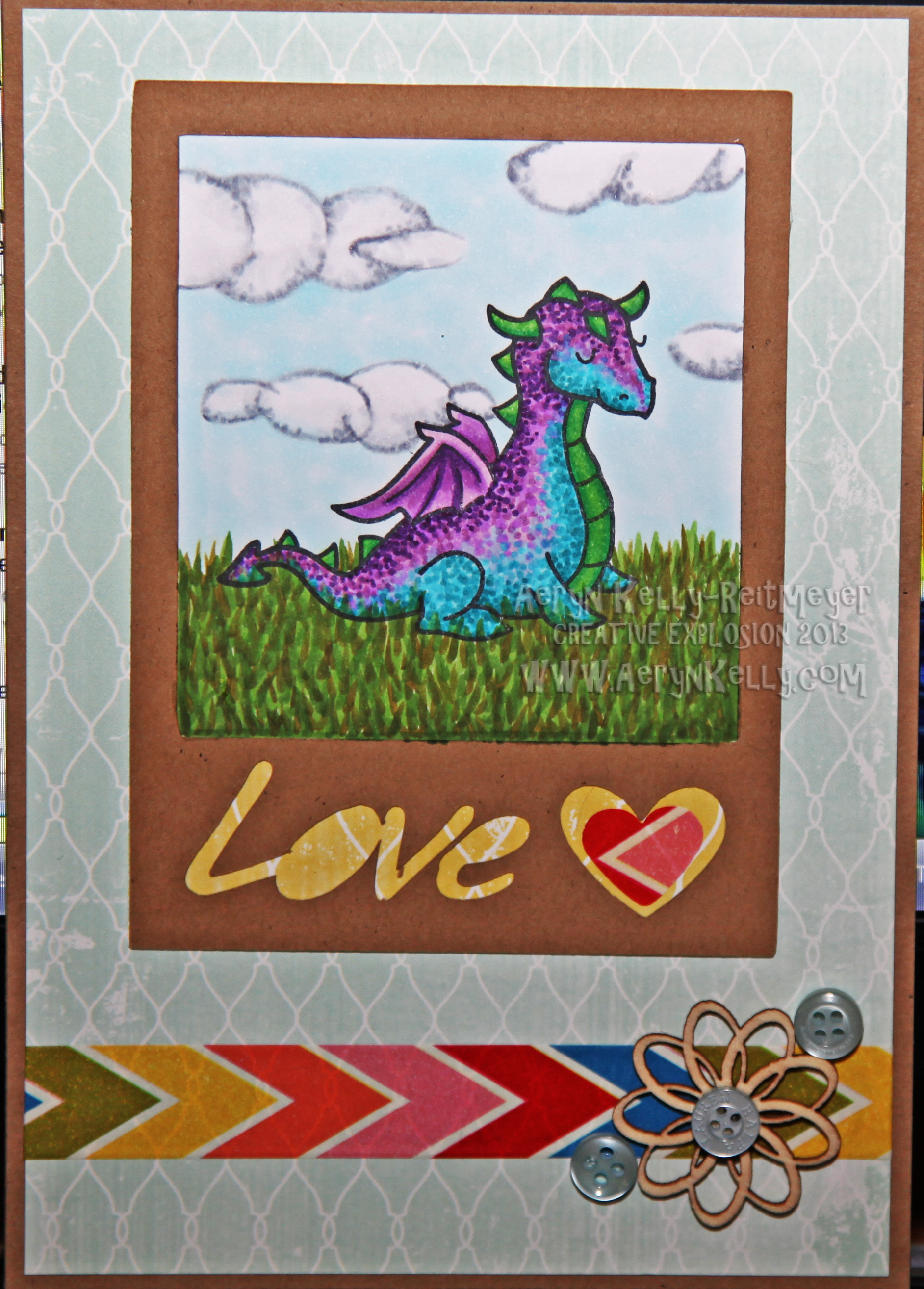 I swear to you, I have been busy! First off, I got my Cricut working with my SCAL2 again, set it up on the desktop, and I cut out this little polaroid frame. Then, of course, I had to fill it, so I stamped this cute little Lawn Fawn dragon in there and created a scene around him. I'm planning on ACTUALLY MAILING it and giving it to a friend of mine. I also managed to use some washi, a wood veneer, AND some buttons on this project. I mean, WTG me, right?!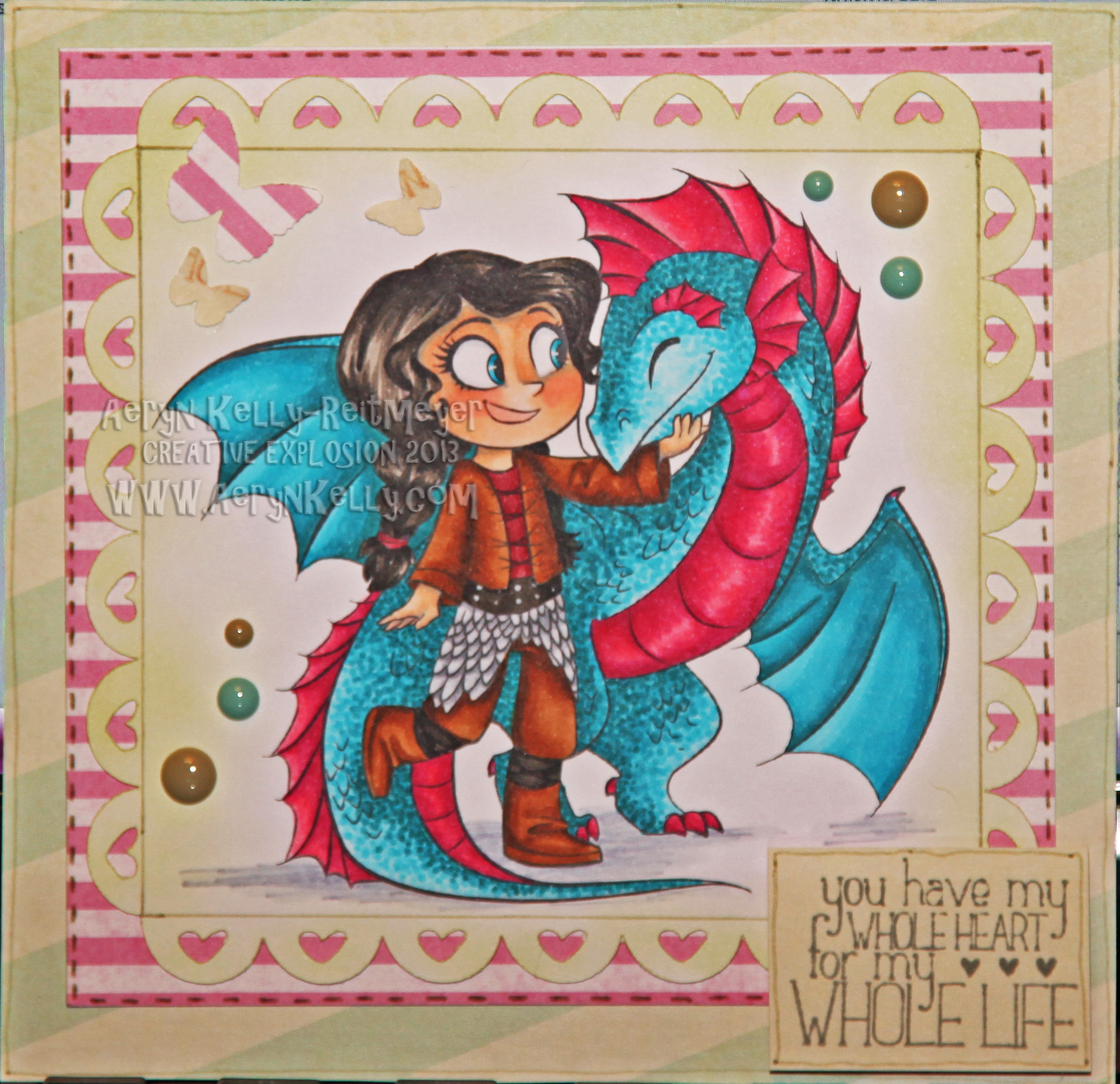 Continuing on the dragon kick, I wanted to explore not doing two-tone, but going with the idea that the scales would become darker if the light were blocked. I used this image by Simply B Stamps and figured it's a girl dragon so I gave her teal/pink. I wish I'd chosen a lighter pink, but I think I captured the idea that the dragon's scales are darker where the girl is blocking the light and where the dragon is bending. I *think* the light source is from the front? Seems to match most of the parts of the dragon, anyhow, and some of the girl. For this card I also used my Cricut and SCAL2 to cut out the heart frame. It was a free SVG file. It took a bit to get it to cut perfectly around the digitally stamped image, but it was worth it for the effect. I didn't include the Kraft paper that I'm in love with right now cos I wanted the card to look more feminine and subtle.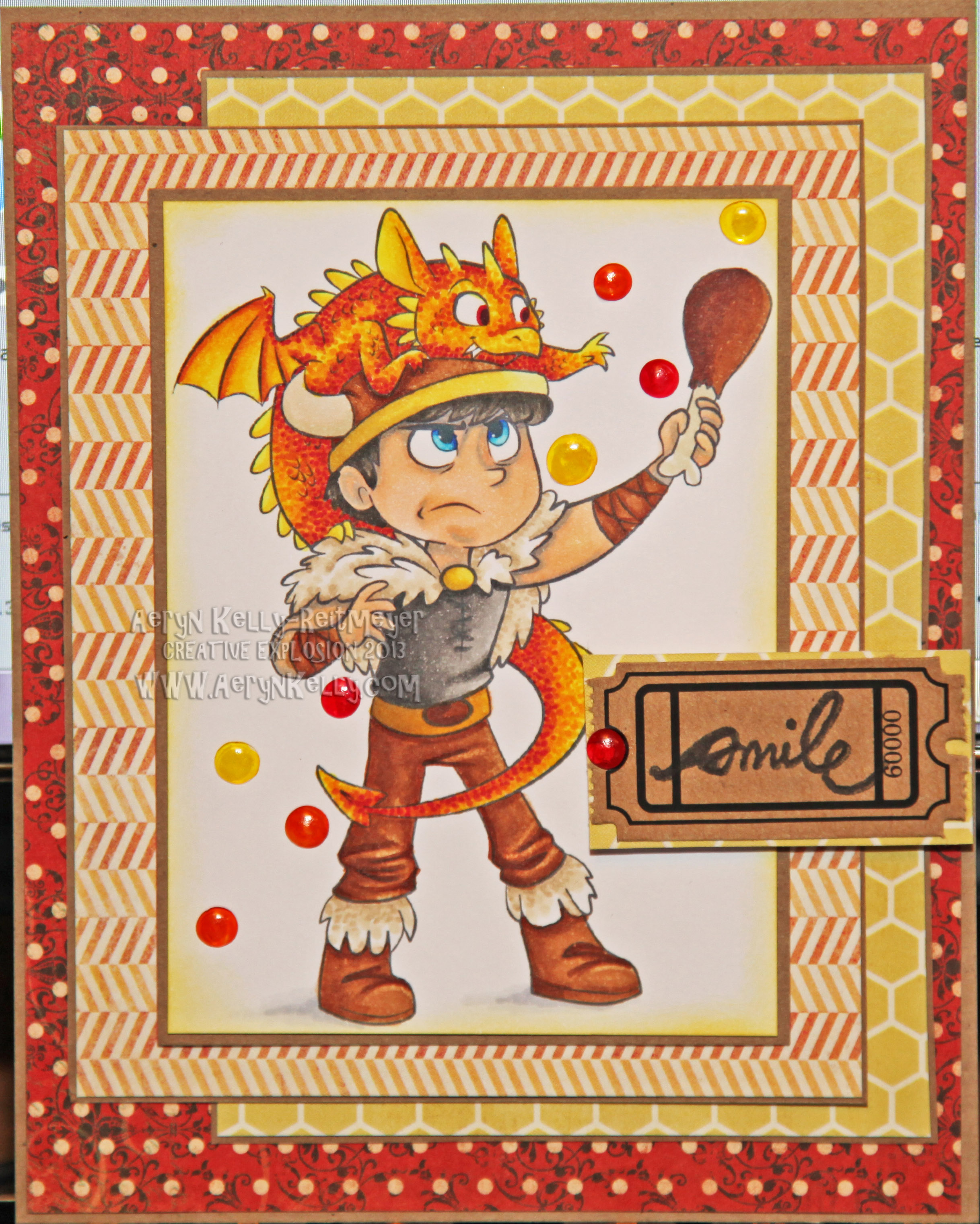 I did this last one last night. I wanted to experiment with the idea that the dragon is reacting to the light by changing colour. He *would* be a solid colour, probably red, but the light is making his scales reflect and change. So we figure the light source is in the upper right corner of the image, shining down at an angle on them. It's not perfect, cos I'm still working on light source, but mostly the dragon changes to a lighter colour where the light is hitting him. We're also assuming that the fur of his outfit is some sort of dirty wool. Like form an alpaca or mountain sheep, so it's not white, it's more of a dirty khaki. For this card I just kept him simple, a little stamped sentiment on a ticket, lots of manly Kraft, and I dug into my 6x6 papers. I also made my own enamel dots. I dotted out Glossy Accents onto an acetate sheet the day before, let it dry, and then coloured the few dots to order, matching the yellow, orange, and red of the image.
Anyway, I hope you like my dragons! I'm working on the other six images from the Simply B Stamps release just cos they're super fun, so I'll have those up for you soon. Well, I'll have them eventually....