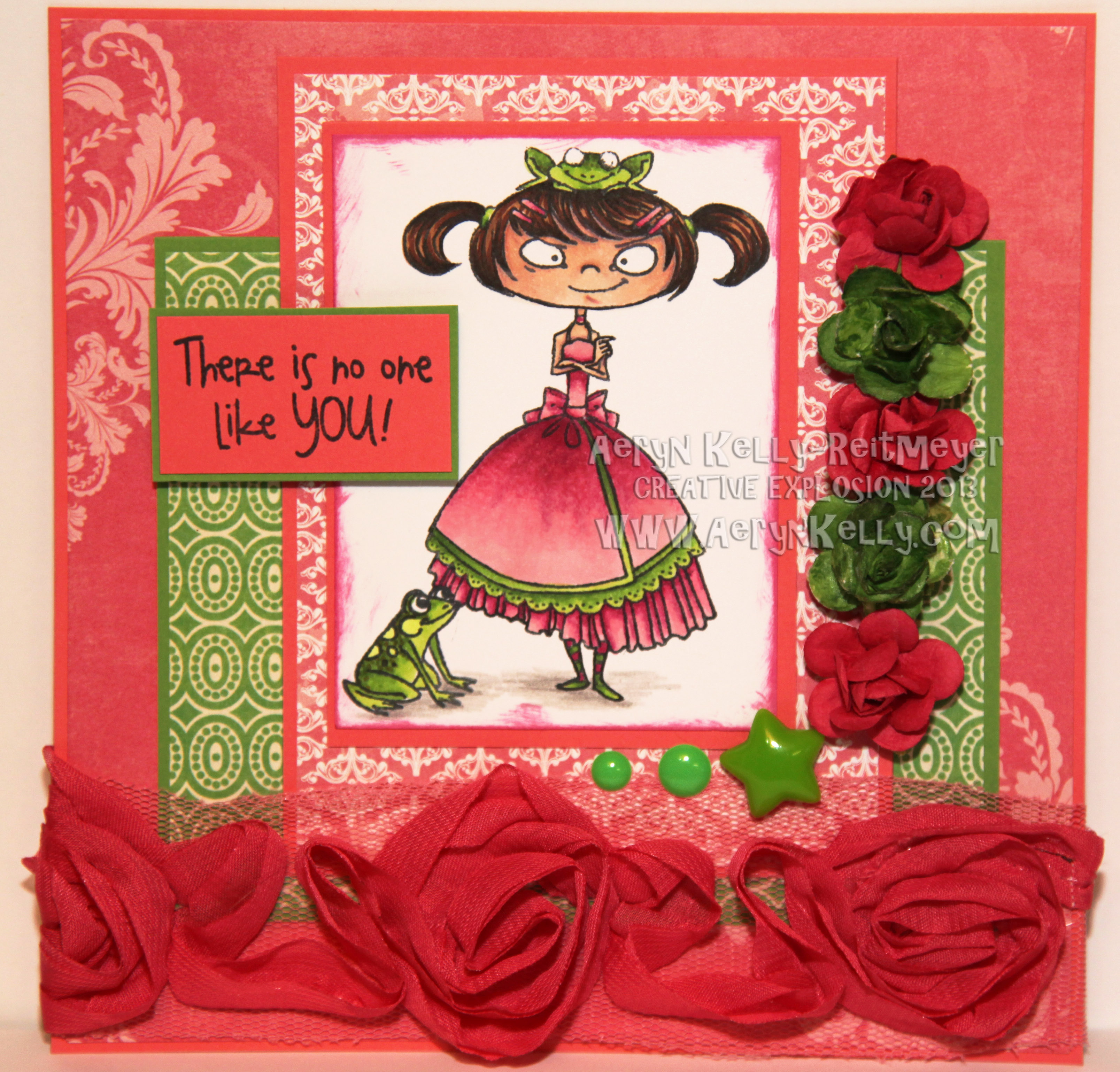 This here is my very first card made with Kraftin' Kimmie stamps. I've been looking at their stamps for a while and during a FB sale I was able to pick up just a few of them. I thought I was going to miss out on another sale to pick up a few more, but a very kind friend of mine, Jill Angel, actually bought them for me. She's so very generous. I think my collection has grown to like 10 or so now so I'm looking forward to showcasing more of these cute stamps.
This card was the same idea as the previous one in purple, just a few patterned papers matted, but I managed to make it look different. I'll have to try something else next time, I'm sure. I just wanted to work with pink and green today and I don't have a whole lot of SUPER green in my stash. I had a tough time colouring this image, because the stamp is really small, and her limbs are really thin. The whole thing is like 3" high, and that's just *way* smaller than I'm used to. I tried my best. And for some of the detail I went in with the coloured pencils cos they're more forgiving of things like med shake, which I have in spades.

Rubber Stamp: Kraftin' Kimmie (Lilith)
Clear Stamp Sentiment: Hero Arts? I think.
Cardstock: XPress-It, Papertrey Ink
Patterned Paper: Wild guess - Echo Park and Basic Grey
Dear Lizzy Rose ribbon
Freckled Fawn enamel dots and star
Recollections roses in pink and white
Faber-Castell Polychromos
Copic Colours
Skin: E11/21/00/40, YR000
Hair: E49/29/23
Outfit: RV19/17/14/13/11, YG67/17/03/01/97