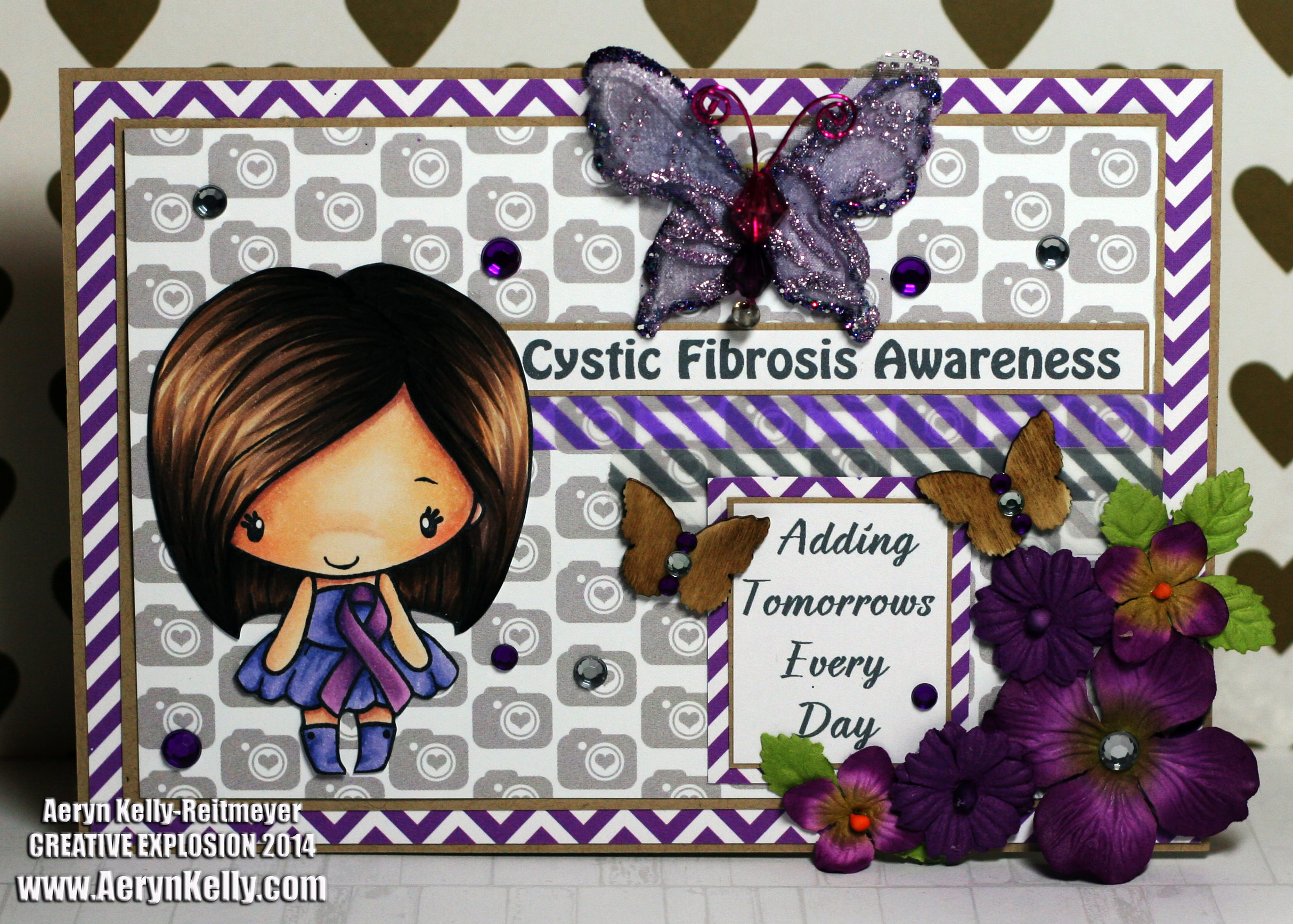 Today I have an personal card, as well as a pretty important one. May is Cystic Fibrosis Awareness month. CF is a rare genetic, fatal illness that affects 1 in 3,700 people (US numbers) which comes out to approximately 30,000 people in the US. It's a painful, costly, and deadly disease currently without a cure.
It's also the disease that I was born with. I've been *extremely* lucky in my manifestation of the disease. I have the most common mutation of the gene that causes CF, and yet my case has been relatively mild compared to my peers. While I've had terrible issues all my life, I haven't been hospitalized yet, nor have I needed a transplant or surgery to correct CF related issues. Of course, now that I've written this I'm afraid I'm ruining my luck...
Since CF is so rare, it's hard to get funding for our foundation and it's hard to make sure that we're provided with the constant medical care that we need to stay as healthy as we can. Awareness is the key to getting us the help we need. I thought one of the ways I could spread that with this website is to make this card. I bought Awareness Anya a year ago and waited all this time to use her for CF's cause. I focused on lots of purple (not hard, since it's my favourite colour) since our ribbon is purple. Making this card was a lot of pressure, I vacillated between several paper choices, as well as the PL kit club card that I used for the base and the printed sentiments. It's tough when things matter to you, you know?
If you'd like to know more about the disease or about how you can help, please visit
www.cff.org
.
Rubber Stamp: The Greeting Farm (Awareness Anya)
Cardstock: XPress-It, Bazzil
Paper: Doodlebug Kraft in Colour
Gossamer Blue Life Pages card
Doodlebug washi
Prima flowers
Studio Calico wood veneer
gems

Copics Used
Skin: E11/93/50/51/00/04
Hair: E49/77/23/31
Outfit: V17/15/12, BV04/02/01