Wednesday was pretty big with the announcement of the closing of Two Peas in a Bucket. It's a huge deal for the scrapbooking world. Sixteen years in business, several owners, them and Scrapbook.com have been the pillars of the industry online for a long time. Many of us saw the writing on the wall, we saw it coming, and frankly Kristina White and the Powers that Be on Two Peas were never good at the business. Driving away customers, delinquent accounts with suppliers; it was only a matter of time.
Many people are struggling to find a new home. Thankfully I've had one for over a year now, with a kind and wonderful leader and NO drama. I hope that the displaced Peas eventually find peace and safe harbour somewhere. There are things about Two Peas I will truly miss. I've been there since I started paper crafting in 2004. That's ten years of my own time there. It, along with my email and FB are permanently open in my browser. That's just the way it has been. The daily "Bloggers and Readers" thread at Two Peas has been invaluable to getting this little site noticed.
Change must come, though, and businesses that aren't run properly must fall. Even how it was handled Wednesday was terrible. No notice, locked boards, and even Garden Girls completely blind sided. End of an era, to be sure, but it's rather hard for me to be devastated, surprised, or even sad for the owners. That's just the way things go.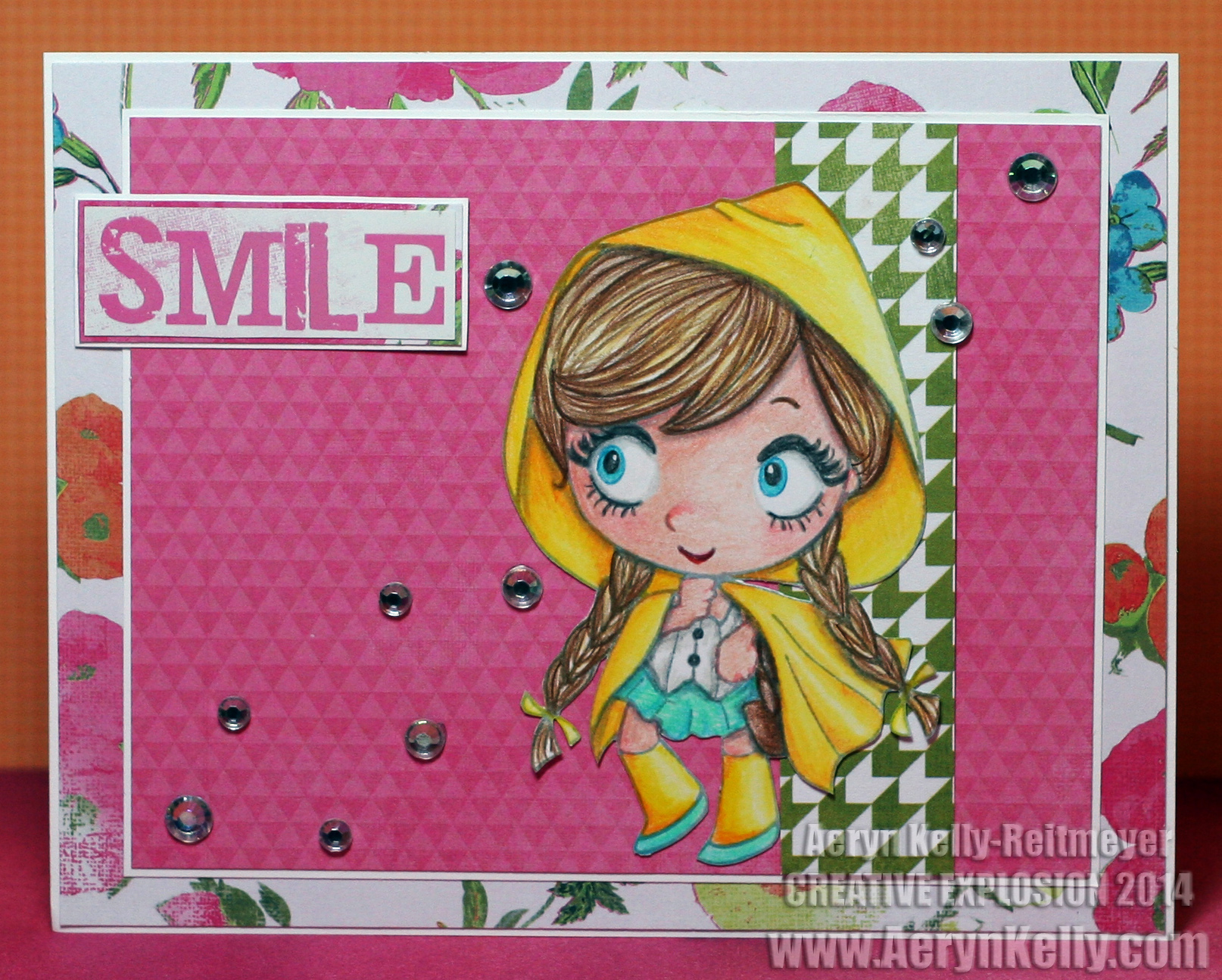 On an unrelated note, while I spent the day downloading my class videos and videos off of YouTube to save them in case the channel gets deleted, I stamped and coloured up little Hood here. I didn't feel like working with red, so I focused on bright Spring/Summer colours. I didn't feel like markers either, so I took out my Polychromos. I got a really nice electric sharpener a few weeks ago and needed to give it a good run instead of the occasional use that I've done so far. It's *so nice*. I mean, really, really nice to have a perfect, sharp tip on my pencils for detail work. I mean, look at her hair! And her eyes. Came out so great. I did a new thing with TGF eyes, gave them some colour and dimension, and I really like it. I'll probably continue from here with it.
I hope you like it. And if you're a Pea Refugee reading this, you're always welcome as a reader here on my site. I'm very glad to have you.
Rubber Stamp: The Greeting Farm (SSC-Hood)
Cardstock: XPress-It, Recollections
Paper: Heidi Swapp
Faber-Castell Polychromos
Bling crystals
Heidi Swap stickers