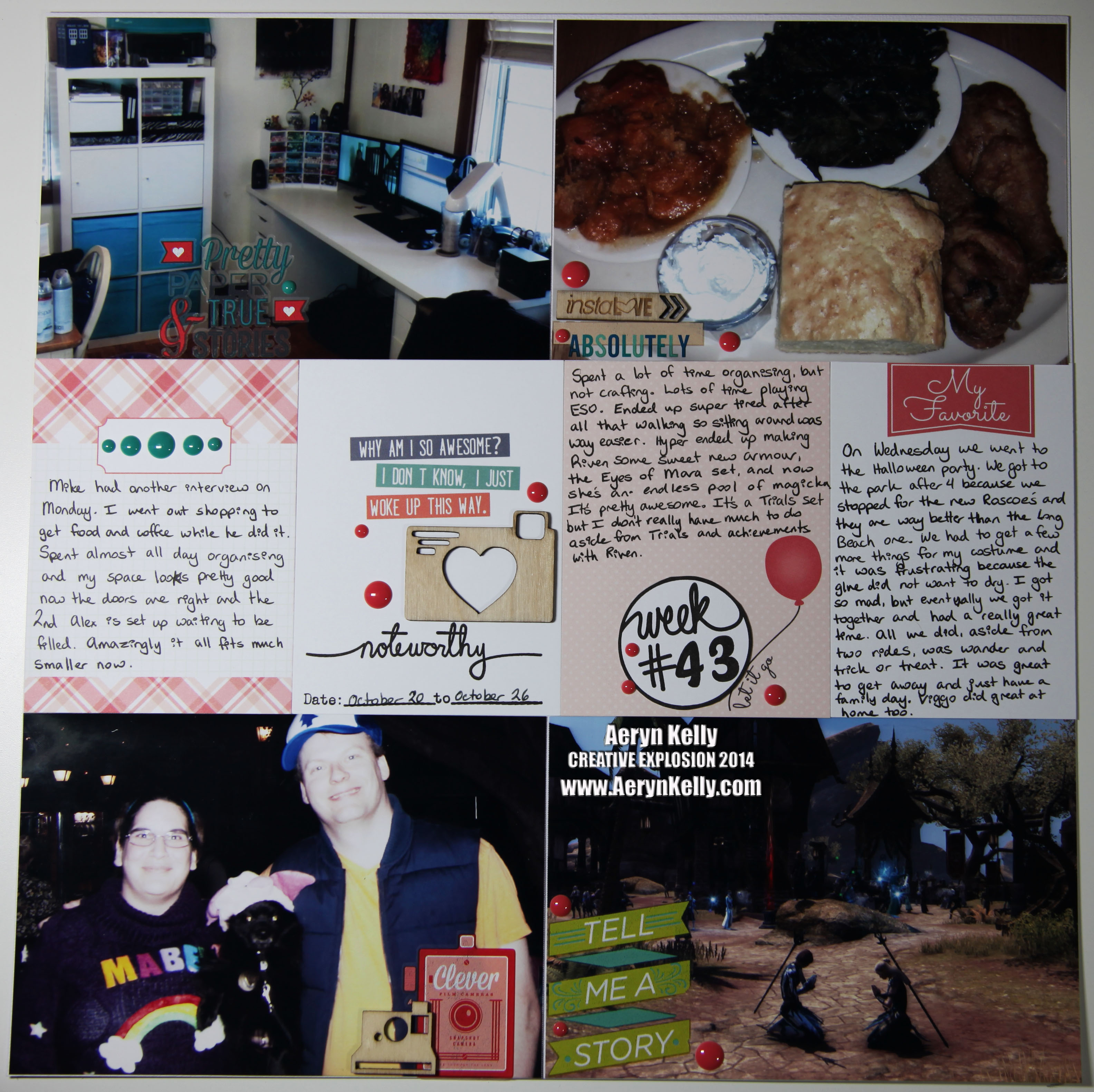 One of my favourite weeks in October because it included our trip to Disneyland for Halloween. Mike and I dressed up as Mabel and Dipper Pines from the Disney cartoon Gravity Falls and Sirius was Mabel's pet pig Waddles. It was awesome! We also got to eat at the new Roscoe's Chicken and Waffles in Anahiem (SO much better than the Long Beach location), I organised my craft space, and played Elder Scrolls with my friends (that's my character and my friend Shay's character doing the /sitpray emote).
I desperately wanted to see Disneyland Halloween ONE more time, so Mike was able to take me again on October 30th! I was so excited, and we had a fabulous meal there too, including the mint julep that my little figures are enjoying. There was a great sunset I snapped a photo of. And in ESO I decided to run a big raid event. Mike and my characters are in the photo, along with our other guildies.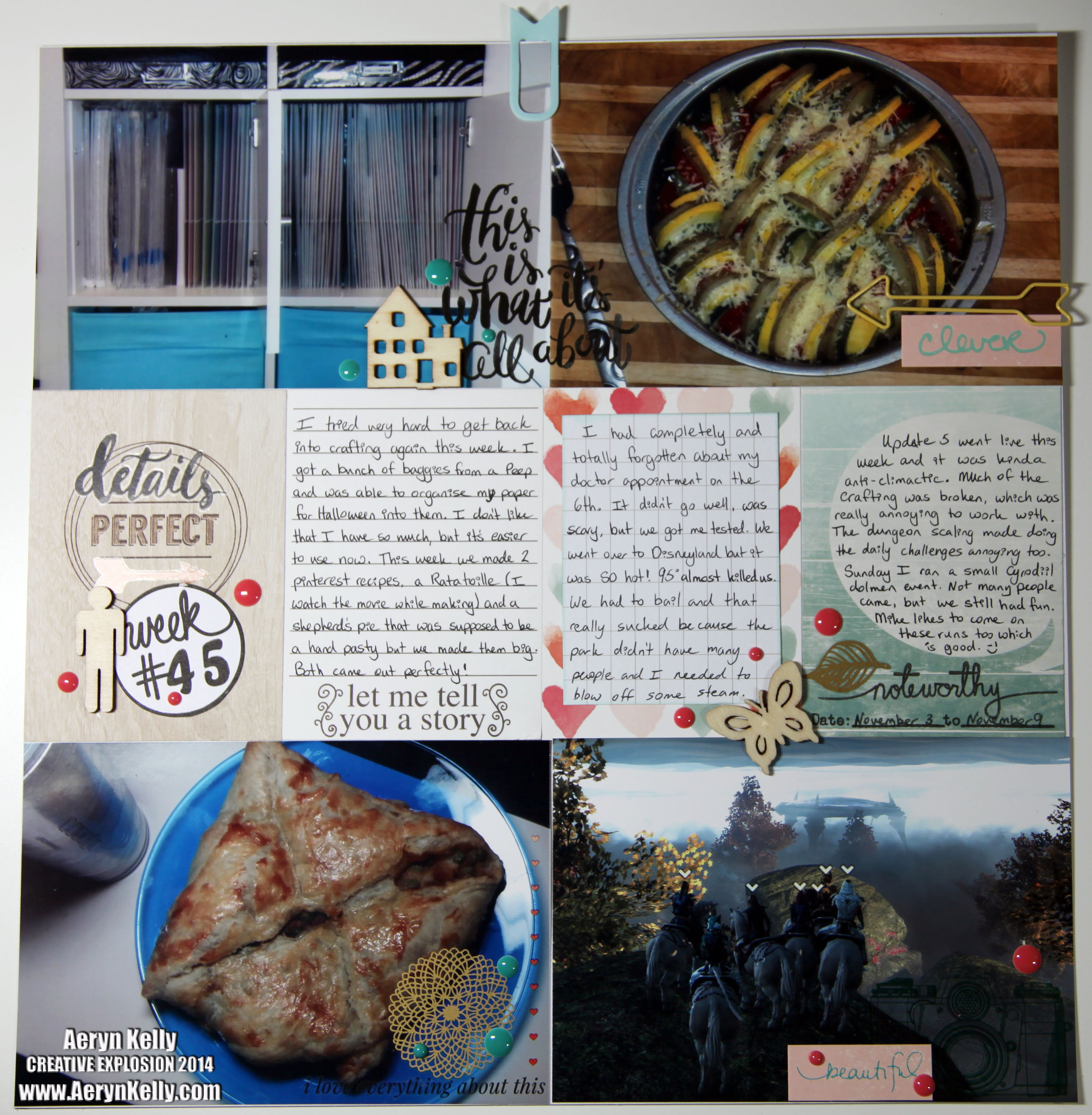 This week we made two recipes from Pinterest. A ratatouille which I made for dinner once night, and then "hand pie" versions of shepherd's pie that ended up being the size of a plate! I ran another event in ESO, a raid to take down dark anchors (pictured) in the capitol city. It was a small raid, but the anchors there are pretty easy, as long as you don't run into enemy players, since the capitol city is the PVP area. A small raid like this can get killed in a second! I also oragnised all of my paper into my Expedit and I realised that adding in my Halloween paper and my cardstock totally filled up TWO cubes! So much paper!!!!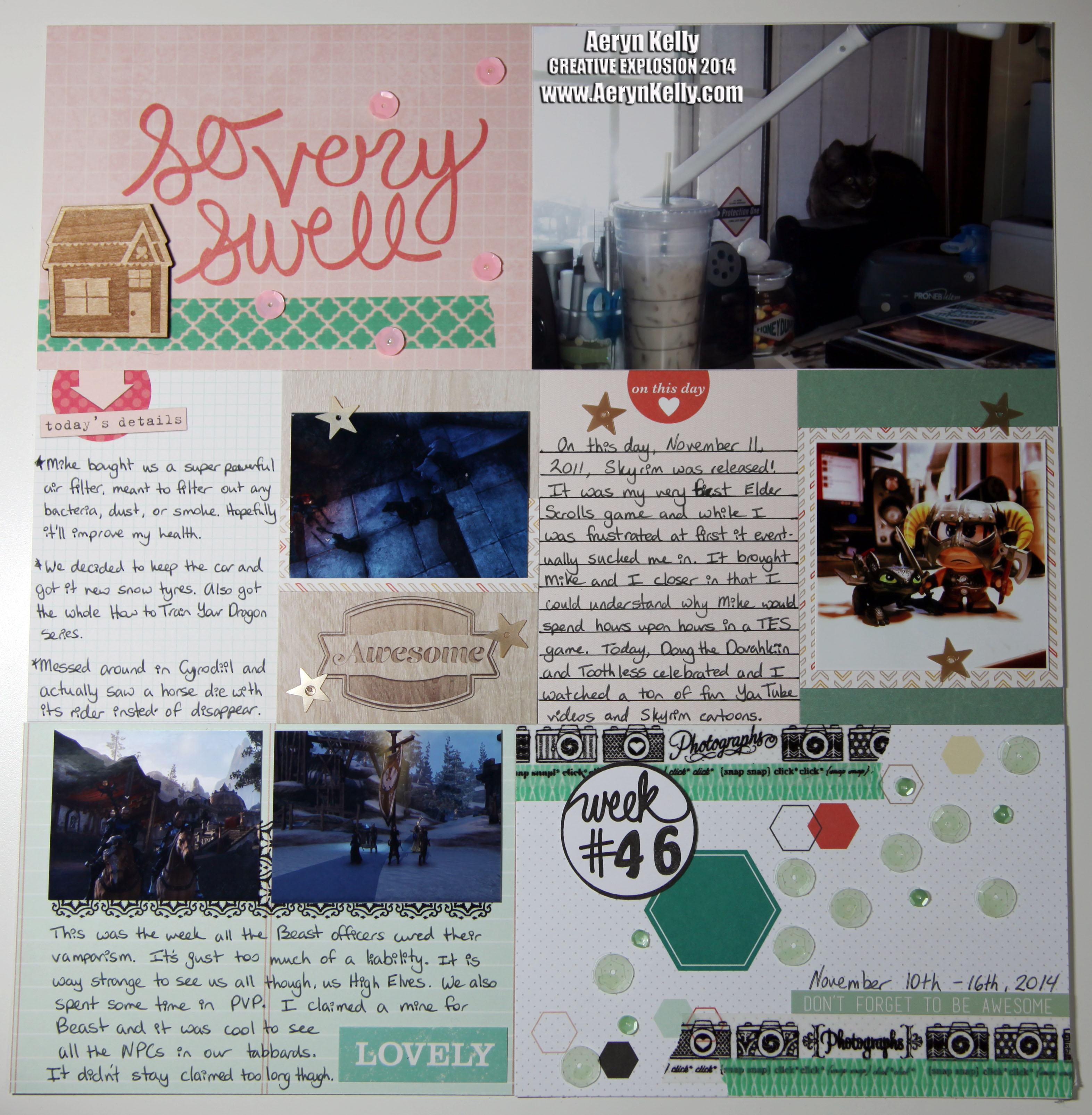 Mostly gaming happened this week, or game related things, like with my little figure in the photo on the right. Skyrim was released on November 11, 2011, so I celebrated with my Skyrim figure (and Toothless) and played Skyrim most of the day. I also snapped a picture of Gambit sitting in the window next to my desk, watching me craft while she chirped at birds.
All these pages use the Gossamer Blue Life Pages kits, as well as bits and pieces from my own stash. I tried to add washi in as much as I could since I like my washi and I do want to use it. There's a LOT of teal and pink in these kits which seems to be something Gossamer Blue got stuck on around the end of the year. I'm not a fan of the pink, but I think it mixed in okay, it just makes the video game photos look SO dark compared to the paper. Anyway, I hope you enjoy these layouts. I'm getting closer to the end and then we'll have shots of my all hand made 2015 PL!